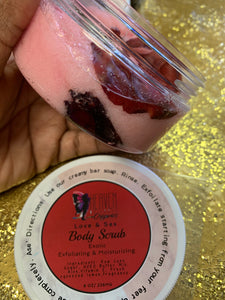 Hey Love! Welcome to Heaven On Earth! Please make sure you read my ingredient list to confirm you are not allergic to me! Now that we have gotten acquainted, my base is raw cane sugar to exfoliate those rough & dry areas. Now what's a Heaven On Earth scrub WITHOUT our special butter mix?!
Our mix is guaranteed to heal & moisturize your skin for days, literally!
How can we put this in words???!!! Everybody needs LOVE annnnnnd SEX! :) This body scrub has strong notes of YUZU (chinese Orange juice) , subtle floral, and a touch of citron makes this fragrance cling to your skin ALL DAY LONG!! Bringing the SEXY out of this scrub, we added a special essential oil mix to take cuddling to another level!!! Thank us LATER!
Ingredients: Raw Cane Sugar, heaven on earth butter mix, aloe vera juice (leaf), fragrance, essential oil Mix, preservative.
*Please note that there is no EXTRA charge for 1 oz of butter!
There IS a charge for 2 oz of butter mix added! ($2.00)
ex/: Jar of Gold regular price is $10. Adding 2 oz of butter will be $12 total for a 8 oz scrub.